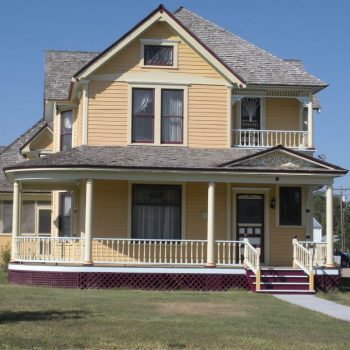 A Charming Place to Stay in Rexford, Kansas
This Queen Anne Victorian house was built by an early Thomas County pioneer in 1906 and was listed on the Kansas Register of Historic Places in 2005. It has now been restored to offer guests a peaceful respite from the rush and pressures of our time, and Pastors and wives desiring a personal midweek retreat. The home is beautifully furnished with antiques, crystal chandeliers, lace curtains and Victorian art.
Enjoy the evening on the wrap-around porch while viewing the amazing sunsets or stroll Rexford's quiet streets and experience starry skies. You might choose to enrich your spirit in the comfortable library.
Rest in one of our three bedrooms–each decorated in period style–with queen size beds. Fluffy bathrobes are provided for your short walk to the bathroom. Upon rising, savor a delicious full gourmet breakfast served in the dining room.
Internet access is available in the Common Room. Tours of the Shepherd's Staff Christian Conference & Retreat Center are available. Please, no smoking, alcohol or pets. Double occupancy refers to husband and wife. Children over twelve are welcome. Reservations only–call 888.687.2565.
Philip's Room

The spacious master bedroom has a large four-poster bed, beautiful armoir, writing desk, and Victorian "pouf" chair.

Sam Houston's Room

The room that honors General Sam Houston, first President of the Republic of Texas. It boasts grand wooden headboard and footboard, as well as many other antique pieces.

Maxine's Room

Maxine's room features a lovely rose and cream decor with comfortable bed, antique rocker, and writing desk.

Twila's Room

Twila's room is furnished with an white wrought iron bed, beautiful chair and lamp, and other antique pieces. The dainty floral decor provides a restful atmosphere for any traveler.

Still Making Music

A working antique player piano sits in the corner of the formal parlor, flanked by a red velvet wing chair.

Hand-Crafted Detail

Intricate hand-carved detailing separates the common area from the formal parlor.

A Relaxing Space

The common room boasts a beautiful bay window with window seat and comfortable furnishings that recall a time gone by.

The Library

The library serves as a place of enrichment and refreshment. Our collection of inspirational books and study guides is complemented by worship cds and comfortable seating.

Antique Wash Stand

Unique pieces, such as this antique wash stand, furnish the Historic Philip Houston House.

A Table Set for You

Enjoy a gourmet breakfast (or a relaxing cup of coffee) in the dining room.

Restored Pass-Through

These unique cupboards served as a pass-through from the kitchen. Hot dishes were placed in the cupboard and could be removed from the other side.

Kitchen

The kitchen mixes the feeling of a time gone by with modern convenience. Custom tiles on the back splash refer to the mission of Shepherd's Staff, and unique pass-through cabinetry recalls a time of kitchen staff that was "seen and not heard".