An All-In-One Facility
The Main Center offers convenience and flexibility. Whether you need a facility to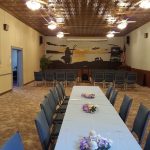 hold an entire retreat or desire to have a large banquet or meeting, the Main Center can meet that need. With a dining area, multiple meeting rooms, and two dormitories, it is a great facility for board/elder events, ladies retreats, quilting, and crafting events. Our staff will decorate the dining area to fit with any theme your group may have. You may also combine the Main Center with any other facility to best suit your goals and needs.
The Main Center houses two dormitories, one with sixteen beds and another with twenty. The dormitories share two large bathrooms with showers. A common area contains a television, DVD/VCR players, and pool table. WiFi is available throughout the building
Photo Gallery:
Dining

Dine together in our roomy hall.

Meeting rooms

Our private meeting rooms can host smaller groups.

Private chapel

Use our private chapel for your group's services.

Dormitory

Our two dormitories house 36 bunks!

Recreation center

Enjoy pool and other games in our recreation center.