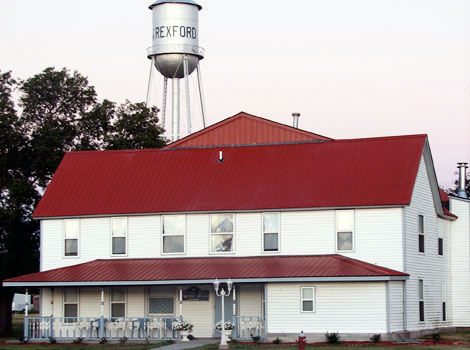 A Secluded Retreat
Built in the 1890's, the Lonesome Dove Boardin' House is fully renovated to reflect modern conveniences while still reminiscent of another era. Each of the fourteen private bedrooms (twelve with private baths) is uniquely decorated to reflect the history and culture of the surrounding area.
Make yourself at home in the Molly Brown room, the Cowboy room, Dorothy's room, or any of the other comfortable rooms. A common area includes a microwave, mini-refrigerator, coffee maker, and dishware. All rooms are equipped with hairdryers. WiFi is available throughout the building. A casual meeting and
Lobby

The entry welcomes guests with a leather wrapped registration desk and a collection of rustic barbed wire and other historic items.

Indian Lodge

Remembering Chief Dull Knife and Little Wolf Cheyennes who crossed this area in the late 1800s, you can sit in a relaxing comfortable lounge for conversations.

Dairy room

Available for light refreshments or early morning coffee as you gaze at the Cooper Barn mural.

Texas room

Our Texas room boasts a king bed and a mural of the Alamo, plus other Texas-themed furnishings. It has a beautiful private bath.

Cowboy room

Allows you to sleep in a rustic Queen size bed, under the stars (in the ceiling). The private bath has a walk in shower.

Americana room

The Americanna Room has both a queen sized bed and a single and had a private bathroom.

Dorothy's room

No Kansas boarding house would be complete without paying homage to "The Wizard of Oz." This room has a private bathroom, and can open another door inside of the room to be connected with the Victorian Room with 2 double beds.

Molly Brown room

We all remember "The Unsinkable Molly Brown" of the Titanic. This room is decorated in a style true to the era and has a large private bath.

Victorian room

Our Victorian room adjoins the Dorothy room and has two double beds and a hall bath.

Danish room

The Danish room has a double bed and daybed and had a private bathroom.

Betsy Ross room

This cozy room adjoins the Ira Thompson room with a connecting door and has a shared bathroom. Decorations reminiscent of the Revolutionary War period accent the double bed.

Country room

Charming quilts adorn the two single beds, and has a private bath.

George Robb room

Bachelor Robb was the station master across the street. The room is complete with double bed, full bathroom, roll top desk and ticket booth.

Sada's Honeymoon room

This room is furnished with her antique double bed and dresser and a framed copy of her marriage license. The couple escaped a Chivalrie by climbing out the window. It has its own private bathroom.

Ira Thompson room

Honors an early settler of Rexford who was the newspaper editor and owner of the first car in town. It has a double bed and private bath.

Pullman room

Twice a day the train goes through Rexford. An authentic Pullman blanket hangs at the foot of the Queen sized bed. It has a shared bathroom.

Sada South room

Sponsored by Sada Munkers, who lived in the Boarding House as a youth. She used to remark "it was never this purdy!" It has its own beautiful private bathroom.