IS YOUR PASTOR NEEDING SOME TIME AWAY TO BE REFRESHED?
Is your clergy member thirsty? Studies show that pastors and their families often feel alone, stressed with the needs of caring for their congregations. Let Shepherd's Staff take care of you while you take care of yourselves by becoming spiritually renewed, refreshed, and revived!
We have a small "Prairie House" which holds up to 4 people (1 double bed, and 1 single bed), includes a kitchen and living room where you can make your own meals and enjoy the relaxing atmosphere of Rexford's little town.
We also host many people at the Houston House Bed and Breakfast.  This is a beautiful historical home that we moved from Gem, Kansas about 10 years ago.  You can rent a room (and most likely be staying there by yourself or with your spouse or friend), and we will make you breakfast in the morning!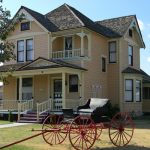 The best part of both of these homes, is that if you are involved in Ministry, you can stay in them for half price!  Call Joan for details on the prices and dates available at 785-687-2565.  You will not regret booking with us!